CHOOSE A GREEN SUPPLIER – It is unbelievably easy to change. So change to a renewable supplier.
Here is a link to Bulb (UK green Energy Provider) It will give you £50 off. It will also give me £50. Bulb referal
I pledge to use any money that I get from this to plant trees with 8BillionTrees in the US until I find an good UK equivalent).
Another great alternative is Ecotricity – 100% renewables, UK owned and probably the most ethical with a promise of No Fracked Gas.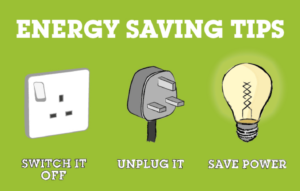 Energy saving is a really easy thing we can all do.
It's simple and it often just requires mindfulness.
Standby
Turn off plugs when not needed. Even phone chargers use energy when not charging so turn them off when they aren't plugged in.
TV's / Games consoles and DVD players are nearly always on standby. We have a remote control over ride gadget on our TV. You turn it off with the TV remote and everything powers down. Ours is like this one – a standby energy saver – but there are probably other, similar types of things out there. 
Lighting
20-25% of your home electricity comes from your lighting so…. turn them off if you don't need them.
LEDs are more efficient than halogen bulbs and are dimmable (is that even a proper word?) so no reason not to swap the next time your bulbs need changing.
Laundry
Wash at 30′ instead of 40′ makes a surprising difference (up to 1/3 cheaper in your bills). But Sheets and towels should still be washed at the higher temp.
Always wash with a full load – obvious but easy!
Dry your clothes outside whenever possible. Dry on drying racks (there are plenty of types available : standing/hanging and radiator racks. Avoid tumble dryers.
Kitchens
Look for A**  good when replacing kitchen ware (Induction hobs are way more efficient than gas or electric options).
Microwaves are actually more efficient than regular ovens.
Only fill the kettle with what you need – boiling water takes lots of energy so why waste it boiling a kettle full of water when you only want 1 cup?
Use a lid on saucepans. Simple. Obvious. Quicker.
Fill up your freezer – a full freezer is 40% more efficient than an emptier one. You can even fill the space with water bottles or cardboard.
Heating
Blankets rock! Love a blanket when on the sofa. It also means you don't have to crank up the temperature in the whole house at night just to keep warm whilst watching the TV in the lounge.
Just turning down the temperature by 1′ can reduce bills by up to £85 a year so dress for the season. Don't expect to wear t-shirts at night in the winter. Get out a jumper and bung on your slippers. Warm feet make a huge difference….
Get individual thermostats on your radiators if you haven't already got them. They let you control each radiator so you don't heat rooms you don't need to.
Remote controlled thermostats (This is another one on our to do list) – OK they are called Smart thermostats  but I kinda dislike that word as it is so over used. They let you control your heating when you are out, via your phone,  which makes so much sense. Why do we have our heating on timers heating our houses when we are out at different times.  Here is a good link to help you decide which is best : moneysavingexpert.com
Oh and draughts… You've got to get rid of those bad boys. Go round checking your chimneys (can be blocked with airbags), windows, external doors, keyholes, floorboards, skirtingboards, pipework and loft hatches. Hold your hand around the edges. You will soon feel if there are cold draughts coming in. Tips for how to do this can be found here : sse.co.uk
Double glazing is kinda a must but some may not have it. My amazing granny, when she lived on a boat, double glazed her windows with clingfilm (just put some of those silica bags in the gap). I've seen this method used in old houses too so give it a go.
Curtains keep the cold out so keep them shut. Put one up over the front door. Keep the warm in and the cold out.
Cavity wall insulation. Houses built after 1920 will probably have a cavity wall to stop the damp. Now you can get insulation squirted into the gap and it will make a huge difference to your heating. There may even be grants still available for this.
Loft insulation. Have you ever seen some houses without snow on their roof in the winter when all the neighbour roofs have loads? 25% of your heat is lost through the roof. Get it insulated. Double insulate it if you can. It's pretty easy. I did ours myself but you can get someone in to do it easily enough.